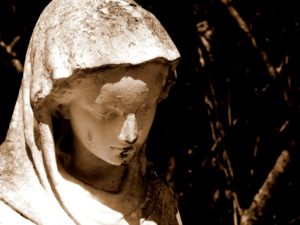 I woke up this morning feeling very irritated and frustrated.  It wasn't a nice feeling.  I knew there was no point in analysing why I felt this way because it didn't matter if someone had stood on my toes in another lifetime or if I could find someone or something to blame.  The crux of the matter was that I felt like this NOW, and I realised I was frowning and looking glum.   Boy, it was a nasty mood and I didn't feel happy.
The next thing I knew, as I walked into the kitchen, Mother Mary had a message for me.  The message was,  "How would you like to have breakfast with you this morning."  No, was the answer and the others didn't deserve it either!
So, I took a few minutes out to light a candle and call upon Archangel Michael to send his team of White Healing Angels to collect all my negative emotions and thoughts and take them up to the realms of Light to be transformed into higher vibrations.   The mood lifted almost immediately.  Thank you Michael!
So, it is not so much how we feel but what we do in the situation. What choice are you making?