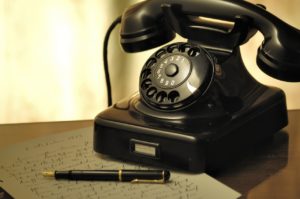 PHONE SESSIONS

I love doing phone sessions.   As I am psychic and an empath I am able to connect with your energy and feel what is going on in your body whether you are beside me or on the other side of the world. 
It never ceases to amaze me that I can clear energies in your body over the phone.  For example, a very distressed man rang me from another country and by the end of the call, the emotions had been cleared and he was fine. 
So your calls are welcome.  Simply phone (61) 0414 941 543 or email [email protected] and arrange a time that suits. 
The cost of a phone session is $90 for 1 hour or $45 for half an hour.
The following are testimonials from people who have had regular phone sessions:
From the moment I spoke with Rosemary I was blown away by her ability to remotely tune in to my energy. When I first phoned Rosemary, she nearly instantly directed the topic of our conversation to why I was reaching out to her. We have only worked remotely, and she has always been able to shift energy with a strong sense of my emotional and physical state. The profounds shifts in energy she has achieved are clearly visible in my life. Within days of our first session people said I looked more calm and relaxed, overall I have grown more confident and I have been able to attract some great opportunities as a result. I can highly recommend woking with her as I am now starting to do in different areas in my life.  …Markus
I have known Rosemary for over 15 years and during that time she has been a guiding light in my personal and spiritual development.  She has provided me with advice, guidance and support through some very challenging life situations when I couldn't see a way out of pain and suffering and her angelic guidance was always perfect at that time.  Rosemary is an amazing healer and holds a loving space for healing in the healing room and during telephone sessions.  She has not only assisted me in transforming energies in my body on numerous occasions, when I couldn't see a way clear, but also provided me with many practical tools which have been empowering and positively life changing when I have used them myself. …J.S.
Rosemary, thank you for your wonderful book it is truly a blessing for me at this time in my life. Your book is a gift to humanity. No matter where you're at with your spiritual journey, this is a "must have" handbook. Simple and easy to read yet incredibly powerful and insightful. Even though I have read the entire book I now use it on a daily basis by opening a page for what I need that day to keep me connected and moving forward. You are a gifted spiritual teacher, compassionate and supportive. You have helped me tremendously on my journey and having you book by my side is like having you by my side talking to me directly, giving me hope regarding my current situation and keeping me connected. I believe you are Australia's Louise Hay and I feel so blessed to have the honour to know you this life time. I just love and cherish your book and I recommend it to everyone. … T.F.