OUR VISION
From the outset of the founding of The Academy in 1995, my husband John & I intended to build a country retreat where people may come for physical, mental and emotional healing and for self-improvement, education and transformation. The land was purchased in March, 2005 to build the retreat which we named Jacaranda Haven.
A former timber-getting and cattle property, it is approximately 2/3rds cleared with about fifty acres of remnant bushland and three dams.
Biodynamic growing of fruit, vegetables and culinary & medicinal herbs has commenced on the cleared land.
Set well-back from a bitumen sealed , all- weather road, the land is peaceful and private with an abundance of native birds and kangaroos, and is easy to walk and drive around. The air and rainwater are pure and sweet, and the night skies and sunsets have to be seen to be believed.
THE PHILOSOPHY OF THE JACARANDA HAVEN PROJECT.
It offers a sensible, sensitive and caring way of living that encompasses every aspect of our physical, mental, emotional and spiritual needs, about how we relate to each other and all of Creation – and does so in a joyous, practical, non- sectarian and non- denominational manner.  It's about easily and smoothly achieving harmony and balance in our lives whereby there is awoken a constant awe and reverence for all life.
Our motto is "Love All, Serve All".
One key value is:- 'If all come to give, then all shall receive'.  Encouraging a stance of " What can I contribute, give, bring" to any situation…Surely, the world would be a very different place if every human being lived by this principle…
Another value:-Environmental responsibility and sustainability'…(Honouring our stewardship and responsibility for the planet). 'The only authority is one's heart' ,(to act according to one's own conscience) which was defined in another way by the legendary Richard Buckminster Fuller as 'integrity'.
PROGRESS TO DATE:
Since purchasing  the property, two water bores have been sunk, one with a potential yield of 240 gallons per hour. Large tanks have been installed for rainwater harvesting and gravity-fed trickle irrigation. Small mixed fruit orchards have been planted and continue to be expanded. It is intended that bio-dynamic farming and gardening (as initiated by Rudolf Steiner in the early 1900's) constitutes a major component of the Jacaranda Haven Project.
A Blessing Ceremony held in 2005 was attended by 25 people who had a fabulous weekend together.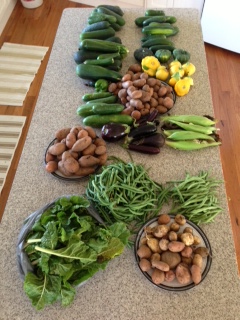 As an integral part of this Retreat Centre concept, fruit and vegetables have been grown in increasing quantities utilizing the application of Homeopathic preparations both to improve soil structure and plant vitality and also other preparations (called 'peppers') to deter kangaroo and rabbits from cultivated areas. The early planting out of the half kilometer avenue of Jacaranda Trees leading up to the proposed house gave birth to the registered business name of 'Jacaranda Haven'.
In 2011 we planted a Lavender Labyrinth at Jacaranda Haven. Friends came and helped John & I with the initial planting.  Since then we have added many more plants.  Last year it flowered for the first time and it was beautiful!  When you walk the labyrinth the scent of the Lavender is very calming.  Visitors have had some amazing experiences whilst walking the labyrinth – and so have I!  I highly recommend the experience.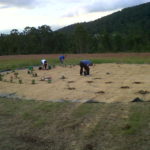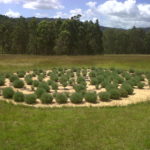 In 2014, after two winters of drought, John and Rosemary extended Dam 1. It has been tripled in size and holds enough water to keep the citrus orchard and small olive grove well watered leaving enough water to trickle irrigate garlic crops and other fruit trees.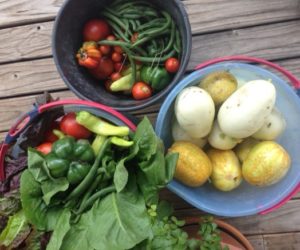 The result of the dam extention is now plain for all to see.  We have had a bumper crop of vegetables this year (2014).  The property has had some wonderful rainfall in recent months.  It's glorious to see the growth that comes from it.
THE OCTAGON:
A beautiful octagonal house and seminar venue with large ponds and outdoor teaching/eating space has been constructed. The octagon features panoramic views, excellent natural light and ventilation, natural timber flooring, fireplace, gourmet kitchen and grey-water irrigated landscaping.  Due to the circular design it can be used as a seminar space comfortably seating 25.  The native bird songs are magical and the sunsets have to be seen to be believed. (Plenty of kangaroos can be seen grazing early morning). It is a place of rest, stillness and renewal.
From time to time we hold an Open Day where all are welcome.  (Please email [email protected] for dates or check my blog)

Ongoing activities include planting of vegetables, fruit trees, installing trickle irrigation for new vegetable and garden beds, weeding, mulching, Bio Dynamic preparation application,  slashing of paddocks, and getting in touch with the Devic Kingdom.
WHERE IS IT?  
Jacaranda Haven is 84 acres/33 ha of gently-undulating land with inspirational views located within the temperate climate of the New South Wales mid-North Coast hinterland at Dyers Crossing, just south of Taree and west of Forster in Australia.   Approximately three and a half hours easy driving from the heart of Sydney, the property can be accessed by a number of scenic routes including The Buckett's Way through The Avon Valley & Gloucester, the Pacific Highway with its ever- increasing new Freeway sections, or Taree/Wingham.
There are numerous motels, caravan parks & camping grounds, and B & B's within comfortable driving distance. Day visitors to Jacaranda Haven are most welcome.
If you would enjoy spending a weekend helping in the garden or doing general maintenance we'd love to hear from you!  Contact us by email on [email protected] or [email protected].